Phonics & Reading Scheme
What is phonics?
Phonics is a way of teaching children to read quickly and skilfully. They are taught how to:
recognise the sounds that each individual letter makes;

identify the sounds that different combinations of letters make – such as 'sh' or 'oo'; and

blend these sounds together from left to right to make a word.
Children can then use this knowledge to 'de-code' new words that they hear or see. This is the first important step in learning to read.
Why phonics?
Research shows that when phonics is taught in a structured way – starting with the easiest sounds and progressing through to the most complex – it is the most effective way of teaching young children to read. It is particularly helpful for children aged 5 to 7.
Almost all children who receive good teaching of phonics will learn the skills they need to tackle new words. They can then go on to read any kind of text fluently and confidently, and to read for enjoyment.
At Ilmington use Jolly Phonics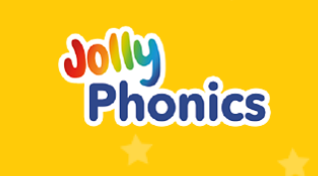 We compliment Jolly Phonics with a vast reading scheme, starting with Jolly Phonics, Oxford Reading Tree and Floppy Phonics to supplement Letters and Sounds. This scheme develops and expands throughout the school so that by Key Stage 2, children are confident readers, who are able to access the curriculum with ease and enjoyment.
We teach a daily phonics lesson every morning across Reception and Key Stage 1. During each session the children review previous taught sounds/words, are introduced to new ones and are taught to apply the new sound/words to reading and writing through a range of engaging activities. The skills the children are taught in these sessions are applied throughout the curriculum. The children are regularly assessed and monitored for phonics and this is used to inform planning and to identify where support is required.
At the end of Year 1 all children will take a Phonics Screening Check. This will assess the children's understanding of the sounds they are taught and how they use them to read words. If children do not reach the expected level, they will retake the Phonics Screening Check again in Year 2.
A link to a Government Documentation about Phonics – Phonics Check Leaflet
Once children reach Year 2, we continue with daily spelling lessons, where much of the learning from Year 1 is revisited and built upon. They are also taught some of the more unusual ways to spell sounds. Children also begin to learn how to add prefixes (e.g. un, im to words – happy becomes unhappy, possible becomes impossible) and suffixes (e.g. ly, ness – happy becomes happily and kind becomes kindness) to words.
What happens after Phonics?
Once the children are in Key Stage 2 they have a weekly SPAG lesson, which incorporate elements of spelling, punctuation, grammar and vocabulary work. They have the chance to revisit spelling rules already learnt, are taught new spelling patterns and rules, and have the opportunity to practice and apply new learning. Children also have a weekly dictation, which includes spelling patterns and rules which have been recently taught. Children often have the opportunity to revisit this learning during independent time and guided reading sessions throughout the week.
Reading Scheme
We use a vast reading scheme, starting with Jolly Phonics in Reception and using the Oxford Reading Tree and Floppy's Phonics as a foundation for the EYFS and Key Stage 1.
This scheme develops and expands throughout the school encompassing many genres of books by many different publishing houses. Our aim is for children to emerge from Key Stage 1 as confident readers, who are able to access the Key Stage 2 curriculum with ease and enjoyment.
Reading continues in Key Stage 2, for pleasure and for academic purpose. We have volunteers who regularly read with our children as well as the Teachers and Teaching Assistants. We aim to read with each child more than twice every week, and also set reading as a home learning activity to be enjoyed and encouraged with parents.