We ha{SECTION_MENU}
Class 3 Blog 2020-21
Protective Behaviours week.
This week has been a very busy week. We have been completing some assessments in maths, reading, spelling, punctuation and grammar as we always do throughout the year. The children have been working very hard on these.
This week, although only being a four day week, has seen the children working on Protective Behaviours. We have been looking at how to be safe, problems and worries we may encounter and how we can break the problem into small, manageable chunks. We have also been looking at developing a set of trustworthy people to help us in our day to day lives. There was a lot of discussion and group work around this subject.
There has also been a focus this week on our handwriting and trying to ensure that we don't get into bad habits which may affect our writing style and our actual handwriting.
Our two Star Students this week have shown great qualities which run parallel with our work at school and they have been awarded certificates for demonstrating these qualities at all times. They are, from year 4 Carson and from year 3 Mia. Congratulations!!
"We have been at work
Working on some great poems
Haikus they are called"
This week as part of out topic and English combined we have been writing Haikus. These short 3 lined poems which follow a pattern have proved to be great fun and have enabled us to write about our sea creatures using a minimum amount of words but where the words we choose have to work very hard for us to make the poems work effectively.
We have also been having a bit of a focus on our handwriting this week and ensuring that all the little things we do in our writing continue to help us write beautifully.
With our science this week, we continued exploring electricity and looked at appliances which run on mains electricity and battery electricity and also those which run on both mains and battery electricity. We have also been learning that mains electricity is called alternating current and battery electricity is called direct current.
In our topic we looked at Blue Flag beaches in the UK. We researched on the internet to find out all we could about these beaches. We then presented our work in whatever way we chose but this included a map of some UK Blue Flag beaches, a new flag and some information about the criteria needed to be a Blue Flag beach.
For our maths work this week we have been continuing to look at decimals in year 4 and in year 3 we started to look at the area of measuring mass using a variety of scales.
Congratulations to our Star Students this week. They are, from year 3, Lucy and from year 4, Ted.
Welcome Back!
This, so far semi normal, term has started well with the children returning very keen to learn. We have started our new topic called Blue Planet and began by looking at the journey of an Atlantic salmon from the place where it is born, out into the ocean and then the long journey back up rivers to then have its babies for the cycle to begin again. We concluded that it was a very difficult journey for a salmon to make but shows how amazing nature is.
In our science this week we began looking at Exciting Electricity and started by considering what we already knew about it. Initially we thought we didn't know an awful lot but as the discussion went on and ideas and thoughts were shared we realised that we actually knew more about it than we thought. And as we discussed further, like all good scientists, we started asking a lot of questions that we are going to try to find the answers to as the topic progresses - questions such as; why do electric eels make electricity and how does electricity get made or generated?
Maths this week was completing our work from the end of our last topic of decimals. We have been considering dividing numbers by 10 and how to represent tenths and hundredths using a variety of manipulatives and finally this week how we show hundredths on a place value grid. This has been a topic on which we have had to concentrate hard with but we have made fantastic progress as the week has gone on.
In our English we have begun to write Haikus, a traditional Japanese poem, related to sea creatures we have drawn within our topic of Blue Planet. We have discovered that these poems follow a pattern of 3 lines with 5 syllables, 7 syllables, 5 syllables in their structure. This sound easy but choosing the right word which says what you want to say but still keeping to the structure is harder than we first thought!
In our RE we have been thinking about the significance of Pentecost to Christians and how it was effectively the birth of the Christian church. We thought about how the disciples, Jesus' special friends, felt with all that preceded Pentecost and then how they felt after it had happened by creating our own emotions graph to represent the disciples' emotions.
This week's Star Students have worked hard in different ways this week. This week both our Star Students are from year 3 coincidentally. The first one is Poppy for working hard at supporting and encouraging her fellow students, well done! And the second one is Alice for writing a great report about her Easter break. Well done girls!
Haribo maths!
This week in our maths we have been working on fractions of a set of objects. This is not the easiest topic to get our heads round in class 3 so we have been working with some rather delicious sweets and bar models drawn on the tables to deepen our understanding. The result was a better grasp of the topic and some very happy children at the end of the lesson when they were allowed to eat the sweets if they wanted!
In English this week we have been working on writing formal letters. We decided to write some letters of protest about the proposed building of 250 new houses in the field next to the school - we even had a letter from the council asking our opinions on the plans. This stimulated a lot of discussion and huge engagement with the work, the children more than happy to write some amazing letters of protest! The bubble was somewhat popped when I owned up to making the whole planning application up on Friday. The letters the children wrote, though, were excellent.
We have also been looking at the subject of Henry VIII in our topic lessons and the children have had great fun learning about the six wives he had and his wish for a male heir. It was agreed that he was probably a good king of England but his character was probably not the best.
The week ended with our regular music time with Mr Kemp who always inspires the class. This week it was with a red tinge as we also celebrated Red Nose Day on Friday with all the children and staff dressed in red to raise money for an amazing cause.
Finally, our two winners of Star Student this week are Noah, year 4, for great effort in his English work and Tilly, year 3, for perseverance in maths work on fractions - Congratulations!
Welcome back Class 3!!!
It has been fantastic to have everyone back in this week. You have all been fantastic in our first week back and, in many ways, it's like we've never been away!
Thank you to all the grown ups who supported the children's learning - we know it was not an easy time but the children have returned raring to go and that is in no small part to you. Thank you.
We have been settling back in this week and picking up our maths and English, French and sport and we have been involved in making something, which I cannot possibly reveal on here what it is until after Sunday! Needless to say it's lovely.
Home learning produced so many creative projects in our class and over the next few weeks, I will endeavour to share some photos of a few of them but as a starter here is a video which some children enjoyed making whilst at home which showcases some of their hidden talents.
This week our two Star Students are Finley from Year 4 and Lillie - Rose from Year 3. Congratulations!!
Extreme Reading World Book Day 2021
Jewellery Making
The highlight of our week this week must have been the making of our salt dough Stone Age jewellery and decorations, although I'm not too sure the cleaner would necessarily agree! We spent some time looking at the jewellery and decorations that Stone Age people would have made and worn and then we set about making the salt dough with which to create them. We thought that they would probably have worn items made from bones, teeth, animal horns, animal gut and possibly wood and we thought we would attempt to recreate them in our salt dough.
So after making a lot of mess with flour, salt and water we had some on the floor and some dough to mould our artefacts. The class loved making their articles and after many hours in the oven we have some rock hard dough ready to paint and turn into our jewellery and decorations this coming week.
In our maths this week we have continued to look at multiplying and dividing and have been challenged by multiplying and dividing by 1 and 0. This seemed a simple concept to start with but some challenges arose when the children had to look at some reasoning and problem solving around the concept.
We continued writing our stories in English this week and after writing a story setting last week, looked at how we could create and describe a character in an interesting way. We thought about how to describe their outward appearance but also the things about their unseen characteristics which makes them interesting. This produced some imaginative and creative writing with some great characters. We continue to read the story of Stig of The Dump which the children are really enjoying.
This week the children excelled themselves learning their 11 times tables with the highest number of children receiving full marks! Well done Class 3.
And finally, well done Star Students for producing some great work this week; Thomas from year 4 for a fantastic story setting description and Bella for a great drawing and critical description of a Stone Age arrowhead.
The story adventure begins.
This week we started writing adventure stories as part of our English work. We began by looking at a WAGOLL (What A Good One Looks Like) and considered the components of the story and how it is put together. We discussed the vocabulary that the author used and what makes that vocabulary work in the context of a story. We also looked at how good use of speech can move stories on in an interesting way. We then looked at the setting for a story and using a picture as a stimulus, we used our five senses and projected ourselves into that setting to describe what it would be like to be there and how a good setting description could draw the reader in to the story.
In our maths we continued to look at multiplication and division and how we can use the inverse to check our calculations. We discovered, too, that when multiplying by 10 or 100 we can't just add a zero (or 2 zeros) we have to move the number to the left either 1 place for multiplication by 10 or 2 places for multiplication by 100 and similarly when we divide we have to do the opposite.
In science we began to construct simple food chains and considered the function of producers, primary, secondary and tertiary consumers.
Our RE this week looked at why Good Friday is an important marker in the Christian calendar and we thought about how some of the people in the event may have felt with an emphasis on Pontius Pilate.
Our topic work this week looked at stone age tools and we examined and drew a replica stone age arrowhead. We thought about what it would have been a suitable tool for but also what it wasn't good for. We were of the opinion that stone age people were really clever at using what they had available to improve and develop their civilisation. We thought that we, today, may not have known where to start to make an arrowhead like the one we examined and drew.
We have also been loving our Friday afternoon music sessions with Mr Kemp. We have enjoyed learning to play together and trying to keep time and listen to each other but we have especially enjoyed learning how to play and sing Jingle Bells and Winter Wonderland. I am really impressed with the class's singing and playing ability and the way Mr Kemp encourages and brings out the best in the children.
In our art this week we began to look at stone age cave paintings and will continue to work on them in the coming days.
And finally, our Star Students this week are 2 pupils who we, as teachers, felt give their all in everything and quietly do their best, setting a great example to the class. They are, from year 3, Georgie and from year 4, Henry. Congratulations to both of them.
Weetahenges!
This week we became stone age builders constructing our own Stonehenges out of Weetabix and icing. Despite the scepticism of one or two adult members of the class, they turned out to be rather good and are still standing as I write this, 3 days later! We discussed what an amazing project this was for the stone age people to build such an amazing structure with their rudimentary tools and equipment to transport the stones many miles and then how they manged to line up the henge with the sun. There was some fascination as to what Stonehenge was actually used for but we held the tension between what we know and what is historical guesswork well.
In our English work, we have been writing instructions on how to make a Lego model and these have been an interesting exercise in how to use imperative verbs, fronted adverbials (complete with a following comma) and powerful verbs with adverbs to achieve clear and precise instructions which are easy to follow.
In science this week we explored which drinks are good for our teeth and those that aren't. The class were astonished to learn that the only drinks which don't cause damage to our teeth are milk and still water, virtually all other drinks cause some sort of erosion to our enamel. We made posters to encourage people to drink only good drinks.
In our RE work this week we explored the Last Supper which Jesus shared with his disciples, his special friends, and the significance to them and also Christians today. We looked at a variety of artistic depictions from a history and judged which ones we felt were a good representation of the actual event but also those ones which we enjoyed as a piece of art and why.
We continued working, too, on multiplication and division and started laying the groundwork for more advanced calculations as the topic progresses.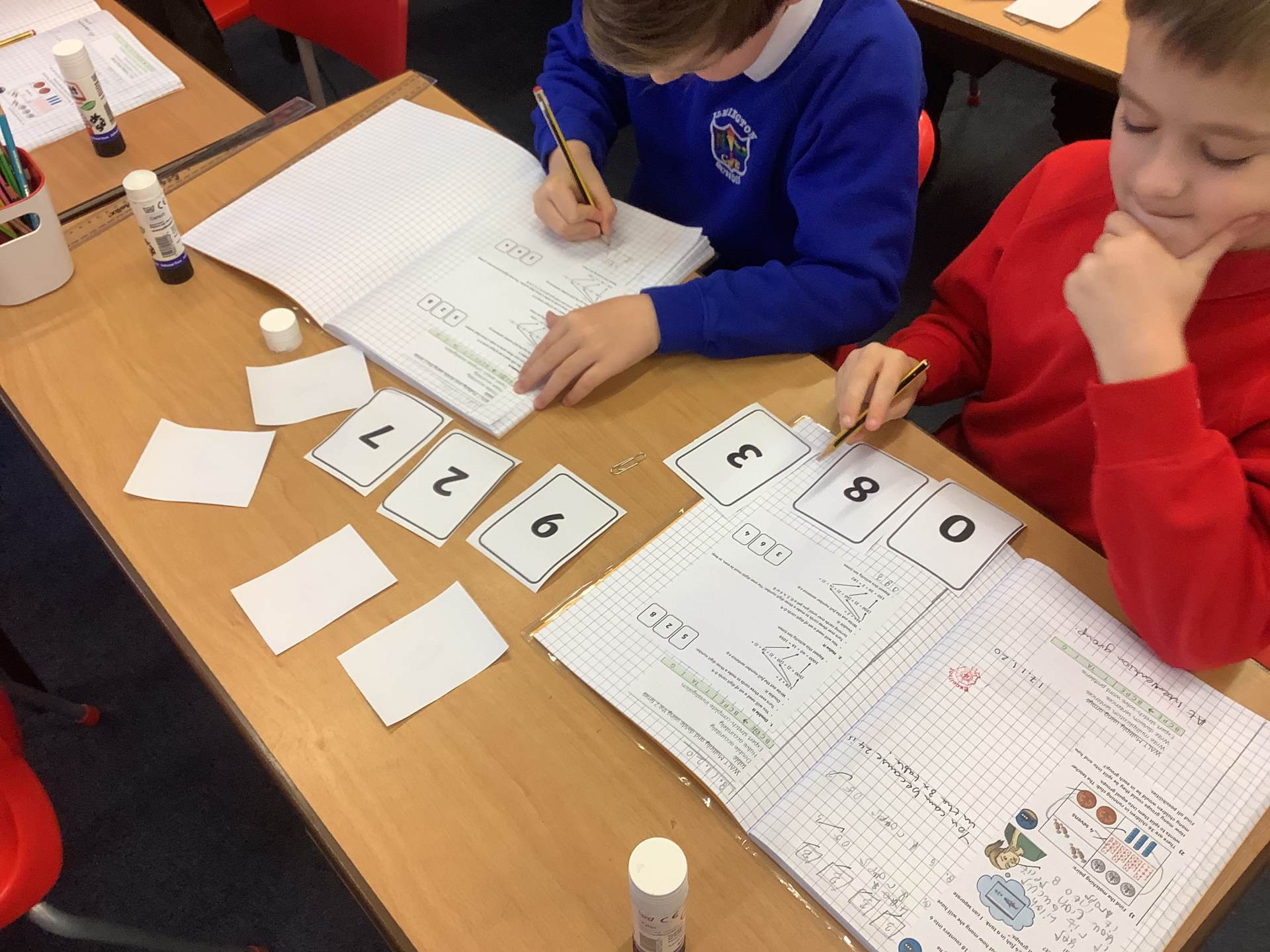 Last, but most definitely not least, well done to our Star Students this week, Lyla from year 3 and Mia from year 4.
Spots and strange food!
This week we began a new English topic looking at Instruction texts. This is a great genre of English to be exploring as it gives us great opportunities to learn how to write effective texts in a fun way. So our week started with making a jam sandwich and then attempting to follow instructions which were not quite as clear as they should be. Consequently we found that you can't spread butter onto bread unless you take the lid off the butter container first!
We also started a new guided reading book, Stig of the Dump. We have so far read a chapter and a half of this great book. The children are really enjoying reading this together and working out what is going on which isn't talked about in the story.
With our maths work this week we completed our topic of addition and subtraction and will be moving on to multiplying and dividing next week.
On Wednesday, we spent some time thinking about Remembrance Day and how we should be grateful for the freedoms we have in our country. We watched 3 short videos focusing on why we have poppies on that day and also the sacrifice that many people made and how important it is to remember service people who have fought and died or been injured. We then joined Rev Fletcher in an act of worship. It was a poignant morning for the class.
Class three have also continued working on our topic of Meet the Flintstones and this week we thought about stone age food. We thought about how fortunate we are that we don't have to go hunting and gathering our food every mealtime and that we have developed efficient farming techniques that changed the way people lived many thousands of years ago. We designed a typical hunter gatherer's meal and decided that we could eat most things but we drew the line at eating an animal's feet and its brain! Yuk!
The week finished with a spotty day for Children in Need which was a lovely way to support this fantastic charity.
Finally, congratulations to our Star Students this week, Lilly and Isobel for their great English and topic work respectively.
A good start to the new term.
Our new topic, Meet The Flintstones, started well this week and we found ourselves digging up treasures from the past and trying to ascertain what they could tell us about the life of the people to whom they originally belonged. This wasn't such a difficult task when I came clean about their origin, items mainly collected from around my house and some of my wife's costume jewellery! But the principles remain and the class had fun speculating on what they might have been.
We have continued working on addition and subtraction this week with the children spotting misconceptions, some deliberate, some accidental, and the class have been working on their problem solving.
In our English we have been reading Stone Age Boy and story mapping the tale. We have also been suggesting how the author may have improved the story.
We also have been using our origami skills to make what are sometimes called fortune tellers in an effort to understand the difference between the diet and teeth of carnivores, herbivores and omnivores.
Finally, congratulations to our Star Students this week. From year 3 it is Owen for being a great example in our music sessions, always being focused and concentrating hard. And from year 4 it is Freya for her kindness which Mr Kemp witnessed when she gave up an instrument to someone else. Well done both of you!
Great work Class 3!!
Another week draws to a close and, as this term comes to an end, I would just like to acknowledge how amazing the children in Class 3 have been over the past weeks. They have been persistently cheerful and have risen to every challenge given them with hard work and enthusiasm and an eagerness to do their best in every situation. Well done Class 3!!
In our maths work this week we have continued to look at addition and subtraction using a variety of equipment and also using formal column addition and subtraction techniques and, of course, graffiti maths too! We have also been working on our mental maths and speedy recall of our times tables where we have been making great progress this term.

We completed our science topic of looking at the human body and having had "Gary" our visual aid for the digestive system, we needed another one for our session on bones. So we used the school skeleton from out of the cupboard(!) and renamed him Barry Bones. He helped us to identify both what we tend to call our bones and also the scientific names for some of them too. We discovered we have 206 bones as an adult and we had a lot of fun creating life size skeletons of our own. We also noted how important our bones are, because if we didn't have them we would "be all floppy" as more than one of us stated.
Our RE this week was looking at Desmond Tutu as an example of someone who lived their life and acted publicly in response to their story of faith. We tried to consider how we can learn from this, particularly in the area of forgiveness.
In English we have continued to look at Kensuke's Kingdom but, as it is such a large book, we have not completed it. We have decided to finish it off next half term as the children want to know what happens in the story but we won't be exploring it to quite the same depth we have this term. We continued work on our diaries in our written work this week too which we finished by writing a complete diary entry using our checklists. We have also looked at fronted adverbials and how we can use them in our writing, complete with the comma, of course.
The week ended, of course, with a great fancy dress day. The children all looked fantastic and thanks, too, to the parents for all your amazing exertions. The children all looked fantastic, as you can see.
Last, but most certainly not least, congratulations to our Star Students this week. From year 4 the recipient is Poppy for always paying great attention to detail and also rising to the challenge of taking a risk, when completing her diary. And in year 3 the certificate goes to Barney for making great effort with his spellings and reading this week. Well done both of you!!
And finally, finally... Have a great week's break and I look forward to seeing you all after half term.
Firstly this week ...
Congratulations to our Star Students this week who have been a good example to the class in different ways. Ava-Rose for her great maths work this week and also Tyler for being so enthusiastic with everything that happens in class.
We have been busy this week working on adding numbers with 2, 3 and 4 digits which has been a challenge at times especially when we have to explain why a calculation is not correct. As we say all the time in Class 3, when it comes to maths, a marvellous mistake is a good thing especially as it helps us to understand mathematical concepts.
In our topic this week, we have continued to look at our world and the continents and oceans. We discovered there are some BIG continents and some even BIGGER oceans.
In science we looked at what humans need to grow and considered the 5 food types and the 7 nutrients we need.
Our artwork this week consisted of continuing to work on The Hunt in the Forest as we looked at perspective and how we could add to our drawings to draw the viewer into the scene. These are coming along but we still have some work to do on these.
We have also continued working on our diary writing which we completed today and tried to write sentences with one than one clause and also using the FANBOYS and ISAWAWABUB conjunctions!
And finally, our week finished off in a rather tuneful way as we worked on our musical prowess with Mr Kemp. It's such a great way to end our busy week and so good to see the children concentrating hard but loving the musical experience, both playing and listening.
Another great week ends!
This week we have been continuing our work on Extreme Earth and have been producing our own representations of the Earth, complete with the Equator, the Tropics and lines of latitude and longitude. We discovered that representing a 3D object in 2D was rather more tricky than it appears but despite this we may have some potential cartographers in Class 3!
We were really fortunate this week to have a visit from the SCARF team, albeit online via Zoom, complete with Harold, the giraffe, who led the children in a rap about mental wellbeing. Class 3 loved it and were very keen to join in and get active during the lesson.
We have got to the part in Kensuke's Kingdom, our guided reading text, where Michael and his family set out on their adventure of travelling round the world on their yacht, the Peggy Sue, and this has led us into exploring diary writing and how to write the 'perfect diary entry', hopefully.
Times Tables Rock Stars continues in Class 3 and this is already having an impact on our times tables fluency and speed of recall. Please continue to encourage your child/children to keep going with it as it is such a fun way of learning and retaining our times tables.
In music with Mr Kemp we have enjoyed learning to play percussion instruments together and at times, we actually sound a little like a band! He is great at encouraging the children to listen to each other, be brave and grow in confidence and it is such a lovely way to finish our week off on a Friday afternoon.
Congratulations to this week's Star Students.
Another busy school week comes to a close.
We have completed lots of work this week which has stretched the children and encouraged them to think and push themselves in many areas of the curriculum. We have continued to read and explore Michael Morpurgo's excellent book Kensuke's Kingdom and the children are enjoying predicting what they think may happen as Michael and his family set out on their adventure - I won't say too much as I don't want to give the game away!
Class 3 have also been working on the difference between the simple past tense and the present perfect tense. This gave us a lot to think about but the children worked hard to master this tricky part of the grammar curriculum.
In maths this week we launched, for some, but relaunched for others, Times Tables Rock Stars and already we have seen improvements in Class 3's mastery of the 5 times table. We need to make sure we keep this up to keep this improvement and speed of recall going with other times tables too.
We have also been working on rounding numbers to 10, 100 and 1000 which involved drawing a lot of number lines on our desks! (Shhhhh, don't tell Miss Noon) Perhaps we should call it Graffiti Maths.
In our topic this week we continued exploring our earth by looking at the Tropics and what it would be like to live there. We researched a part of the Tropics and wrote weather forecasts for our chosen part of the Tropics. I think we decided that the Tropics weren't a bad part of the world in which to live!
In our RE we have been focusing on the Ten Commandments and why Christians try to live a good life and how the teachings of Jesus can help.
And in our art this week we have also started to explore The Hunt in the Forest by Paulo Uccello focusing on perspective and techniques that he used to draw us into the scene.
Star Students.
Congratulations to Eddie and Charlie for being this week's Star Students!
What a busy start to the term!
It has been fantastic for me joining the wonderful children, staff and parents at Ilmington who have been so welcoming and I have been really encouraged with how much the children want to learn after the long lockdown.
Over the past couple of weeks we have been looking at Place Value in our maths, letter writing in English and the Equator, latitude, longitude and the Tropics in our topic work.
We have also been enjoying looking at the human digestive system, thankfully in model form, and have been constructing our own model, named Gary by the class, showing what happens inside our bodies when we eat.
We have looked at Van Gogh and produced our own version of Sunflowers using pastels. They are very good but I doubt whether we could sell them for the $82 million which the original fetched, unfortunately. We have also produced mirror images of our faces which also look great.
Class 3 have also been enjoying the last of the warm summer weather on Tuesday afternoons doing a variety of sports activities.